I dedicate this article to all those kids looking to the summer sky and searching for the why, what, where, and when.
A tornado outbreak with cape at 5,000 feet is incredible. Give it huge inflow bands of warm air. The "fingers of God" will reach down.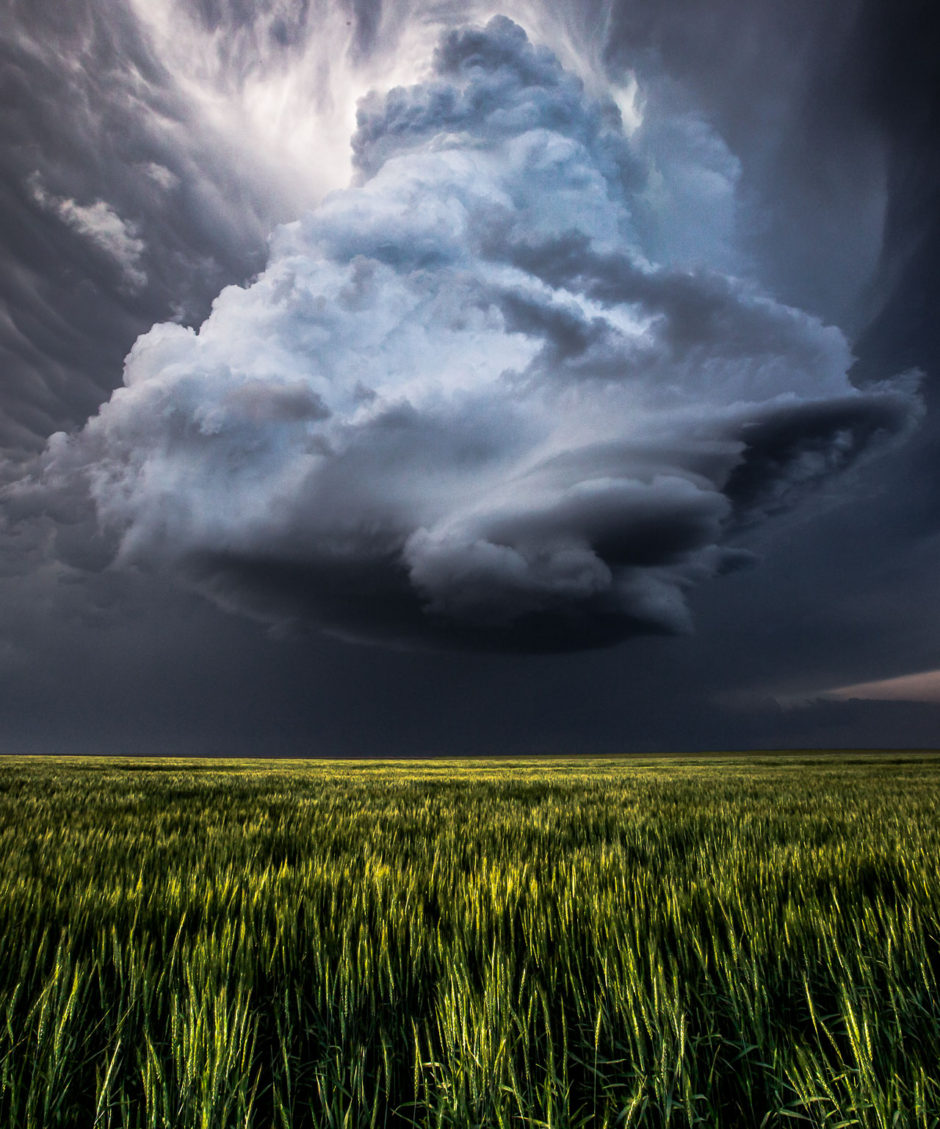 You start early in the morning. The temperature and humidity are already egging you on. You could have 7 to 12 hours to wait to find the beast of a wall cloud, follow it both in the sky and on radar. The sky begins to turn green and your mind spins. The air steadies at ground level. You can feel the damp air on your skin and smell the storm ready to explode. When the funnel lowers, get those cameras ready. Goosebumps arrive on every cell of skin on my body and my spine is raging with electricity of my own. You can feel the presence of ethereal power in the air.
When you can see the cone circulating from above and the radar is pink and extreme warned is MY adrenaline rush.
There are hundreds, or maybe thousands, of people who feel this way and call themselves Tornado Chasers. As kids we watched the sky and loved the beauty of clouds. Some of us as children were involved in tornadoes and instead of developing fear developed fascination. Some are highly trained meteorologists driving for that scientific knowledge equipped with weather machines and computers to collect data. Some chasers are simple hobbyists who only chase on a Sunday in their own locations, and some of us will travel hundreds of miles to find the right circumstances that stir the gods to throw up a tornado. ALL of us should, and most do, have the respect for Mother Nature to learn how to spot and chase safely.
Sometimes storms can be predicted days before an outbreak, but when you're standing outside and your skin begins to prick up, is when you "know" it's time. The humidity, the temperature, the darkening skies; if they don't get your motor running then you're not a lover of storms. You can have all the "should be" information telling you one is coming, but that is why tornadoes are studied. We still can't tell when, why, or where. The time spent anticipating the storm can be quite a build-up. You watch the radar and you do the math with the mesoscale, but there is never a guarantee that a tornado will show up.
Despite the unknown, we chase. We love it; every step of the day. I recommend any reputable chaser to attend the NWS SKYWARN Storm Spotter Program. … SKYWARN® is a volunteer program with between 350,000 and 400,000 trained severe weather spotters. These volunteers help keep their local communities safe by providing timely and accurate reports of severe weather to the National Weather Service. Our priority is to keep people safe, especially in our "own back yard," our communities that we live in. Storms are beauty in motion, but a tornado can rip apart lives. There is knowledge you should know BEFORE you set out on the road.
The pros of having the home-court advantage are knowing the local terrain and roads. If you don't have a team of at least 3 people – ideally 4, you may put yourself into a dangerous situation. Your teammates need to trust each other. I mean Trust with a capital T, because you are putting your lives into each other's hands. The driver needs to trust the navigator to find the safest roads while at the same time putting you on the track of your target. The cameraperson needs to trust the driver, so they don't have to watch the road at all, but only concentrate on getting the best shots of the storm/tornado. Everyone needs to trust that the goal might be getting a good picture or video, but everyone's lives and safety come before ANY picture.
The entire team might have differing ideas of where to go during a large storm system. Some team members like to stay safer than others. Meaning they want to stay at a longer distance away from the actual tornado. Others follow their adrenaline and their gut or depend on years of meteorological knowledge to find the best path and know they can get close and still stay safe. I can guarantee there will be disagreements among the team. Try to keep team camaraderie up, get enough sleep, bring your snacks, and know each other well.
Which team member is best at judging how fast a tornado is moving and usually determines from the storm's wind speed, the wind's direction, and the other involved winds about where to go? Which member actually understands the science of the meteorology and can decide if conditions are right? Who is best at reading a radar AND reading local maps? Who has the eyes that can shift quickly to catch many motions at a time? All this and more is necessary to put together a safe team. Yes, you need to be able to "read" the clouds, but you need to read each other, too. Decisions often need to be made in seconds: here's a road to turn on, a hill will be coming up, that area has too many trees and little visibility, the base of the tornado just turned, where's our safe route and other types of questions need fast determinations with little to no argument.
Does your team have a team leader or is every question up for debate? Often this is up to who's car are you in or who has spent the most money on the trip, and those shouldn't be determining factors if you make a few guidelines and rules before ever starting to chase. Hopefully you have someone, or two, on the team experienced and trained for medical emergencies. Not only may one of you become injured, but if you are the first people on the scene in a town or at a home after a storm has passed it simply isn't up for debate; stop to help. The adrenaline turns sober as you find destroyed places and possibly dead bodies. It is part of the job. Staying psychologically healthy after such incidents is also important to the team.
You just can't make decisions based on emotions while you're out there. While some say the adrenaline rush can cause you to make hasty and ill-thought choices, the best decisions are based on facts and not on "I've got to have that picture" or "Oh my god I'm so afraid." Someone has to be the calm in the storm person; the type of person who could run a busy ER during a mass casualty. Fear is not a good decision maker, but you also need to acknowledge your feelings and be able to set them aside. Yelling only gets you so far to be heard and you can't hold a grudge against a decision made and voted for. Personally, I think the best way to be able to make informed decisions is by being prepared.
Of course you need wi-fi capable electronics. Chasing takes money. No, you don't need to trick-out your vehicle with all the latest in meteorological equipment, but you need gas money and you need capable radar. Getting stuck in the middle of nowhere with an aged cell phone isn't ideal. A proper, if not the latest, level of smart phone, iPad, or even a good laptop is often your guide. If the radar you're watching has a lag in time, that's no good. If you have to keep re-logging on or restarting your electronics you could put the team in danger. You ARE going to go to places where wi-fi is sketchy, cell towers may be downed, and at times there's a hundred miles or more between towns. Where I spot, the towers are far away and only service one phone company or the other. When your radar is down you depend on training, preparation, and each other.
It's a LOT of driving. Being cramped together in a hot muggy vehicle for hours or days can drive the best of us nuts. The atmosphere inside the car can get sketchy, too. Hot, hungry, and tired chasers can turn on each other if you're not prepared. This means spending more money. Make sure you have enough liquids for everyone to stay hydrated, yet don't argue about "potty" stops. If you have cigarette smokers on your team you need to make some sort of deal about how often to stop for a cig break BEFORE you leave. Cranky smokers are no fun, but if you have a destination to get to the non-smokers don't want to stop. It also sucks up more gas if you use the air conditioner in the car. You simply can NOT try to be a beauty queen and a chaser. You're going to want to wear clothes that can get wet, muddy, or even torn. If you wear make-up it's going to smear, smudge, and sweat off. Bring along "small" warm weather clothes, such as just a T-shirt or tank top to wear when it's hot and humid, but you need warmer clothes for after the storms and during the chilly evenings. I also recommend agreeing to buy your own meals on the road so there's no argument over who owes how much. Bring sturdy and sustainable snacks.
You need gas, liquids, various layers of clothes, snacks, good electronics, emergency medical supplies, and possibly bathroom items if you're chasing for more than a day. This all needs to be packed tightly in small packs, because it's going to take up space. You definitely learn how to live sparsely. Bring the basics of the necessities.  Bring spending money for hotels, more snacks and liquids, etc. A cooler takes up room. Get used to warm liquids. If you're addicted to caffeine your soda will be warm and your coffee will be room temp. Seriously, deal with it. If you're used to looking good, get used to looking rough. Bring a hat. It holds your hair out of your face and rain out of the way.
Oh let's see, what else to bring? Wear a pair of shoes and bring a dry pair. Same with clothes. Bring rain gear if you have it. Long hair needs scrunchies. Sun glasses. Tylenol. Tools come in handy for car breakdowns. Orange cones, road flares, or other auto emergency supplies are nice, but not necessary. Gloves, orange vests, eye goggles for protection, and possibly even a helmet (in case of hail) are all included in MY personal kit. It is safest to use cones or flashing lights to warn other drivers that your vehicle has pulled over and people are milling around. I can't stress enough how important batteries for flashlights, NOAA radios, etc are. Remember all your electronics' cords and charging supplies. If you're using a video camera bring extra batteries, lenses, extra of anything that could possibly be needed plus dry rags to wipe screens, lenses, etc.
You NEED a good driver. You don't want someone driving who has only been driving for a couple years ever or has no experience driving in adverse weather conditions. It's easy for the most experienced driver to hydroplane on standing water or not know whether to drive into or away from certain wind variables. You're going to want to speed. You may HAVE to drive at high speeds to get away from danger. The driver needs to know what conditions are safe and when to pull over to let hail or torrential rain go by. Your driver needs to be able to drive on dirt or mud. Your driver should also know the feel of the vehicle they're driving. If they aren't driving their own vehicle you need to give them time to drive the one they will be several times prior to any chase. Do the brakes need to be stomped on or just a soft touch? Does the steering wheel tend to pull? Does this person know the engine and its knocks and quirks?
The navigator needs to know how to give directions that are coming up before the need to do them in a calm manner. This person is often watching road signs zoom by, so you always know your location, while they are simultaneously watching a radar and watching funnels outside the window.
In my opinion this is too much for one person and I like having a team of three or four to break up roles. Good eyes need to watch equipment and tornadoes. The navigators need to be able to make those quick decisions about what direction to drive. Knowing your GPS coordinates is great, but second to that you need to know your physical location to a town so you can notify the authorities of tornadoes on the ground. What's near to you; a farm building, a nestle of birch trees, what can you see to tell someone else who isn't with you? I am not the type of person that can look and know what direction North is, South, or whatever. I'm not the main navigator, but I am good at reading the radar and maps. I can tell you where the storm is going to be at any given time or where we need to be safe, but I can't tell you what that last road sign said. I'm too excited about the radar and I have eye problems. The Main Navigator always needs to have a safe route in mind .
The person with the camera needs to know the camera. This sounds like, duh, but sometimes you just can't see out your window and need to pass the camera to someone with a better vantage point. Having everyone on the team know the camera is great, but The Cameraman gets the best shots. They understand how to operate the camera in low or high light, what speeds or pixels, in wet conditions, and all that technical stuff. Some chasers use a simple phone camera, and some have expensive high-tech models. Some chaser teams have cameras hooked to the vehicles sending information to the team via computer. Some teams live-stream video to social media and send pictures to news outlets or the National Weather Service. So, the videographer needs a calm strong voice and a steady hand. I'd like to mention that you are often wiggling around in the compact and confined space of the interior of the vehicle. Being in good physical shape so you're not getting sore from wiggling, twisting, etc, is a bonus. Sometimes team members will work-out together to stay in shape.
The most dangerous part of chasing is getting into traffic. Who makes the worst traffic during a tornado? Other storm chasers. There are times in the Midwest Plains of the US when there are hundreds of storms chasers on the road for the same outbreak. Those who just want a nice picture should be considerate of the scientific crews. GET OFF THE ROAD AND LET THEM THROUGH! Yes, I am yelling that, because getting caught in a line of chasers going 25 mph because they're "close enough" isn't just frustrating it's dangerous. When you see the trucks and vans outfitted with scientific gear, they know there is a tornado nearby and you are putting everyone in harm's way, and they need to get to where they're going. They are getting science data to prevent future storm deaths. If you don't pull over and let them through, you are directly interfering with the saving of lives. THE question is; why do some supercells form tornadoes and some don't.
In the past there has been the TIV: Tornado Intercept Vehicle run by people filming for an Imax movie, and they were also carrying science equipment for the TWISTEX team: a 40 to sometimes 80 vehicle team of tornado scientists. Reed Timmer and the TVN: Tornado Video Nation team has also done incredible work carrying scientific equipment on his Dominator tornado intercept vehicle. The weather engineer, Tim Samaras, and his team did nonstop research until they were killed in a tornado. Let teams like this through.
Those teams were professionals. They had been chasing for dozens of years or decades. We still lost the TWISTEX team. This IS dangerous. There is a distinction between spotters and chasers. Spotters are watching the storms and reporting to local authorities and the National Weather Service about local extreme weather. Chasers are also spotters, but often the chasing is a weekend hobby. Some chasers do it as extra income from the documentation or even run Tornado Chasing bus tours. Spotters usually see the tornado, call it in, and leave the area for safety. Chasers stay in the danger zone often only 100 yards or so from the core or in the RFD winds. Spotters can be in danger too, though. Downbursts, multiple-vortex tornadoes, microbursts, intense damaging hail cores, flash flooding, bow echoes or derechoes with straight-line winds, lightning, debris, fog banks, high-precipitation or rain-wrapped storms, and tornadoes at night can all put spotters in danger if they're not trained.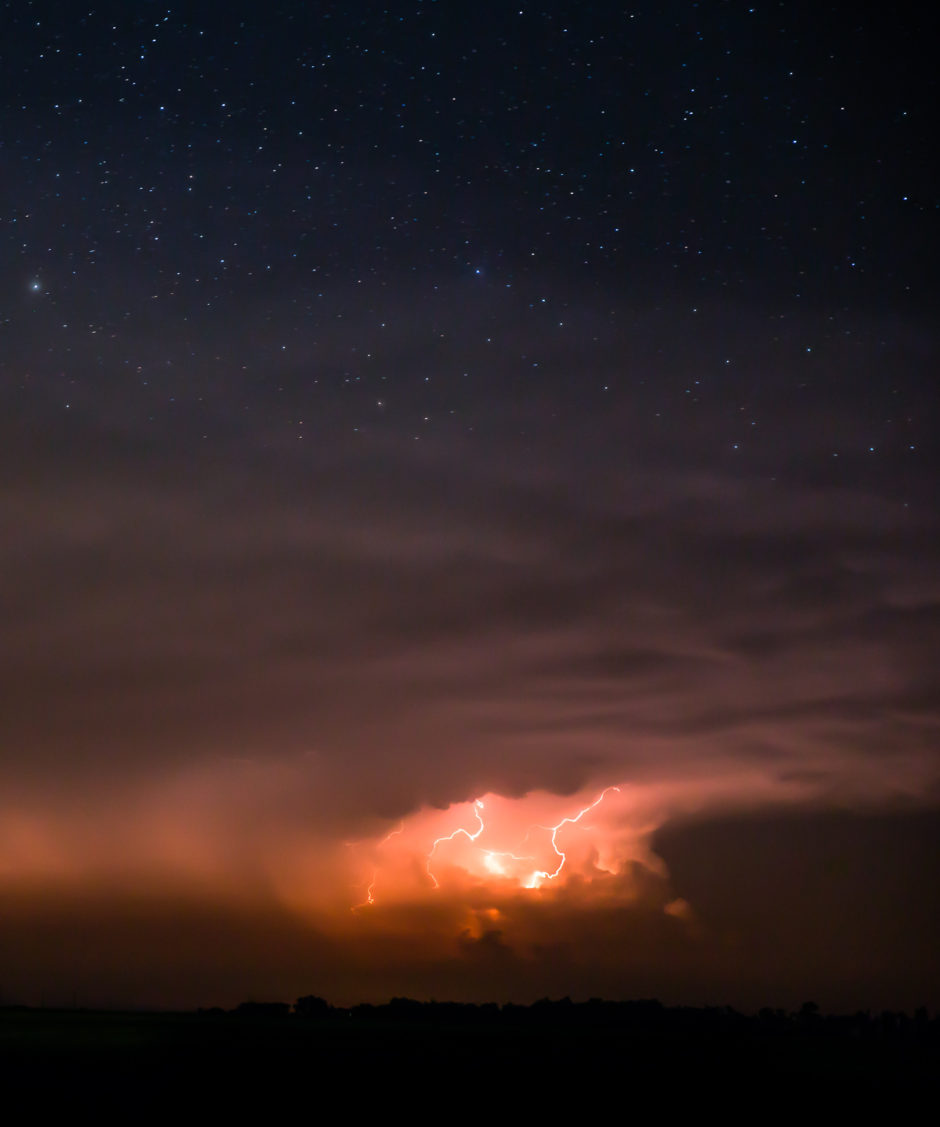 Most chasers and spotters are not professional meteorologists. Knowing a bit about weather can only enhance your experience. Being able to report certain aspects of a storm at its location is something the weatherman back at the newsroom needs. Reporting factual weather details to the NWS so they can put out watches and warnings and local cities can turn on the sirens is part of being a Certified NSW Skywarn Storm Spotter. If you want to be a reputable spotter, you need to know certain terminology; the basics at least.
There are a lot of good reputable ways to learn about extreme weather. Pick up used meteorology textbooks, study mesoscale discussions on the NWS website, attend workshops and conventions. The National Weather Service and NOAA both have a plethora of websites and links to learn from. National Public Radio hosts informational discussions. There is no reason for anyone to not be educated before spotting or chasing. I highly recommend the NWS Skywarn Spotter training and certification, but don't ONLY depend on that one training then head out into a storm. Avoid mayhem. Get trained.
Good Tornado Chasers don't need drugs or alcohol. Our "high" is chasing. It's ecstasy. Other times of the year we watch TV shows about chasing, gear up ourselves and our vehicles, and even chase other types of severe weather such as blizzards and hurricanes. Some people want to jump off a building with a bungee rope. Just put a radar screen full of extreme weather in front of us. We can't only see it; we can smell it. It's in our blood. We must watch. If we can't watch from our cars, we watch from our living rooms on laptops. Some of us have expensive computers to help organize data and talk with other chasers and weather networks. You may call it an addiction, but for us it's pure fascination and reverence. When day turns black and all light is gone; Stay safe out there! The power is incredible.
Pictures via my own or another well-written article about chasing:
14 unbelievable photos that capture the chaos of storm chasing
https://www.weather.gov/SKYWARN
https://www.weather.gov/oun/spotterglossary#Introduction
https://www.smithsonianmag.com/science-nature/how-storm-chaser-changed-face-tornado-science-180968688/